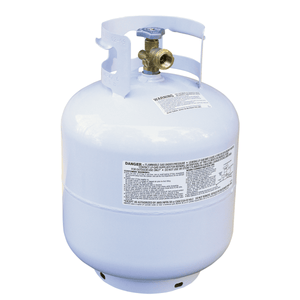 Estimated Arrival: Between Dec 18 and Dec 21. *ETA to USA Only
Shipping & Returns: Shipping Calculated at Checkout
Propane Safety Best Practices

1. Make sure to take the tank right to the dispensing station. Propane tanks cannot be brought inside the store.

2. All tanks will be inspected for certification date and condition before refilling. There are rules and guidelines for how long a tank can be re-filled.

3. A tank that is out of date, damaged, has a bent or missing collar or foot ring, excessive rust or has been painted violates all national propane rules and policies and will not be filled.

4. All barbecue-type cylinders must be equipped with an overfill prevention device (OPD valve). Cylinders can only be filled for 12 years from manufacturing date or 5 years from re-certified date.

5. Check your propane cylinder for leaks before you turn on your grill or appliance. Use a solution of soapy water to check for leaks, which will cause bubbles to form. The internal O ring inside the tank makes the seal with the hose and regulator. If bubbles appear, the leak could be caused from a faulty O ring or from the regulator of the grill

6. The distinct odor of rotten eggs is an indicator of a propane leak. Remove any source of flame from the area, and repair or replace any defective parts.

Best Practices for Propane Transportation

1. Always keep your propane tanks upright and secure when transporting.

2. If your tank is left or stored in your vehicle, heat, sunlight and motion can increase pressure to an unsafe level. This may cause the safety valve to vent propane gas and create a flammable, explosive environment.

3. Please remove your tank from your vehicle as soon as you return home or to your place of business.

4. Regulations require that all tanks be transported upright and secure with the valve closed. When on its side, a tank's relief valve may open, allowing flammable gas to escape. Contact your local fire department for local rules and regulations.

5. Store and use propane cylinders only in well-ventilated areas. Do not use or inspect a propane cylinder indoors.

Our Propane filling station is open year-round Monday-Saturday from 9:00am – 5:00pm and on Sundays from 12:00pm – 5:00pm during the months of April, May, & June. Please call us at 781-646-8473 to ask about holiday closings.
---